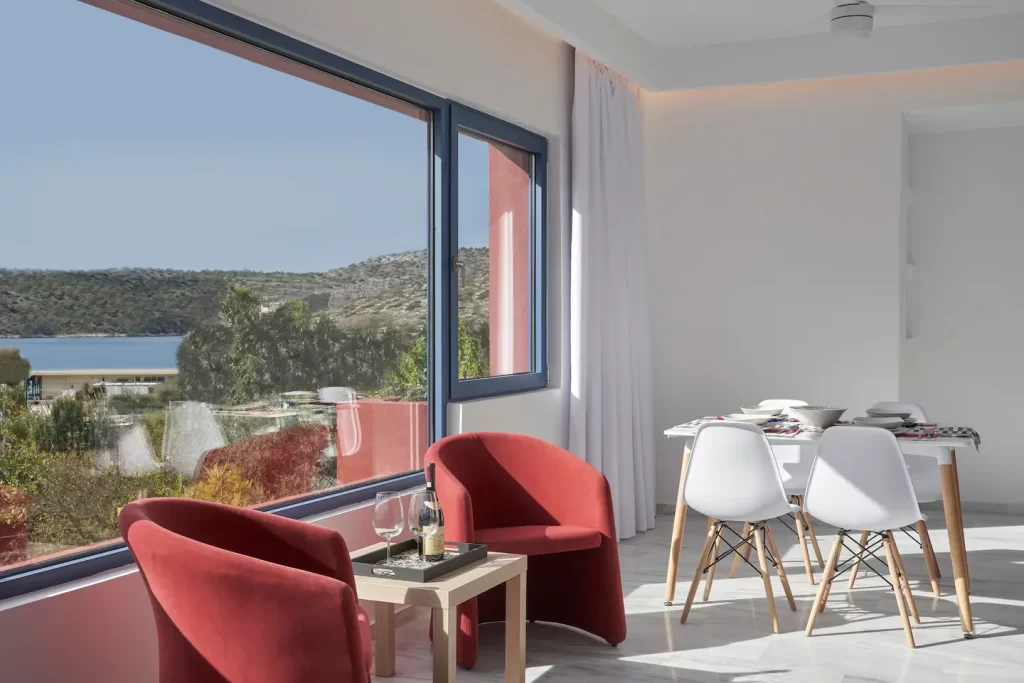 Bright and with an amazing sea view, the property boasts a privileged location that provides everything a guest may need. Enjoy a unique stay in an ecologically luxurious smart fully equipped and self-contained apartment just a 1 minute walk to the sea! The apartments are surrounded by a variety of herbs and spices such as rosemary, mint, basil, laurel and more, that give you a "taste" of the natural beauty of Greece. Augoustos apartments have been fully renovated to the highest standards. All of them have excellent soundproofing and thermal insulation that guarantee a comfortable and relaxing stay. Upon arrival, someone will always be at the property to welcome & greet our guests, making sure their needs are covered and all questions can be answered.
Augoustos apartments used to be an old school. We took an old, non environmentally friendly building and renovated it to become an eco-sustainable boutique hotel. Augoustos is the Greek word for the beautiful month of August. The name ''Augoustos'' was chosen to describe the sense of freedom that students get to enjoy during the month of August on their school holidays. Our goal is to offer the carefreeness and joy that the month of August represents all year round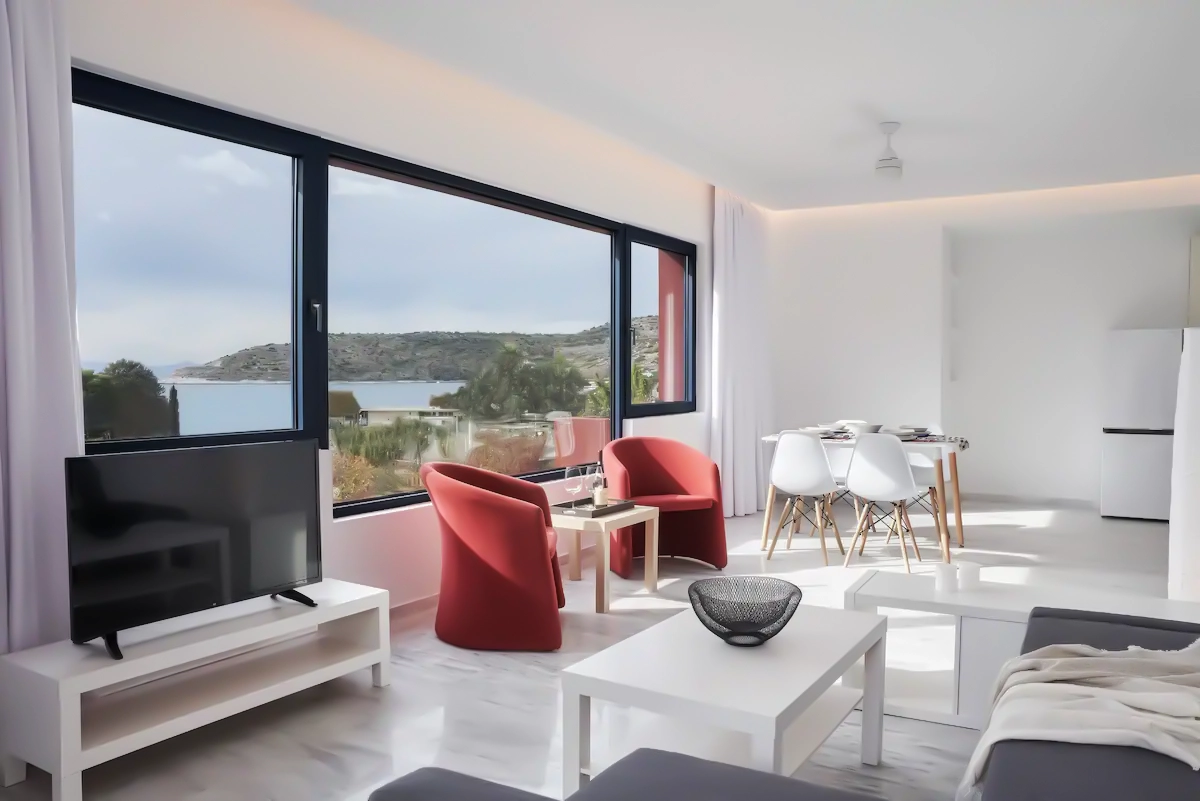 Extra details about the apartments:
Our apartments have an eco-friendly low energy consumption heating and cooling system with air recycling and digital control panels. They all have a fully equipped kitchen, Smart TV, laundry machine, ceiling fans operated with remote control and adjustable lighting modes. The bathrooms have external windows and an incorporated heating and cooling system. There are window screens on every window and balcony door to keep out mosquitoes and bugs. Every apartment has independent wi-fi and 3 ethernet plugs to ensure the best connectability. Regarding safety considerations all apartments are equipped with security doors, fire extinguishers, smoke and carbon monoxide detectors and a first aid kit.
The location of the apartment complex is Agias Marinas 14, Agia Marina 19400 Greece. You can easily locate it using GPS
We have a non-smoking policy inside the apartment. However, smoking is allowed on the balcony, the garden and the surrounding areas.
You can park your car(s) in the property's outside parking area.
If you need to go to the beach, center of Athens, cape Sounio, airport or anywhere else we can arrange your transportation either by taxi or minibus. Transportation costs and method of payment will be quoted to you prior to any arrangements.
You can use the following link to find many useful phone numbers in Greece https://www.greecewebtravel.com/greece-useful-numbers.html Please note that the emergency number in Greece is "112".
The cleaning of the apartment is taken care of prior to your arrival. If you require any cleaning service or any extra sheets and towels during your stay, please let us know and we can arrange it for you.
Every apartment has its own Wi-fi. You can either scan a QR code or find the name and password on the electric panel next to the entrance door.
Agia Marina is a suburb of greater Athens, forming part of the municipality of Koropi in southern Attica, part of the Athenian riviera. It lies approximately 4 Kilometers from Varkiza, 9 km from Vouliagmeni, 50 km from Athens city center, 20 km from the airport and Attiki avenue and 35 km from cape Sounio. The northern part of the area includes cultivated land with olive trees, pistachio trees and grape vineyards, since it is considered to have a temperate climate and fertile soil. The coastline of Agia Marina, where the southern part of the area is, meets Souniou avenue and overlooks the Saronikos Gulf. It includes a lot of sandy beaches, restaurants, beach bars and the orthodox church of Agia Marina where the area got its name.
– Vouliagmeni – Natural thermal lake (13km)
An upmarket, vibrant town full of seaview cafes and restaurants. It is a great place for hiking, cycling and swimming since this is where a famous triathlon event is held! (Extra Greece Championship). The town's most appealing feature may well be its thermal spa lake where you can swim and enjoy the beautiful surroundings all year round!
– Glyfada (19km)
A popular town for all kinds of shopping and leisure with a wide choice of trendy cafes, restaurants and bars.

– Athens city center (32km)
You can visit the Acropolis, Syntagma square and many other places of historical interest.

– The Poseidon Temple in Sounio (32km)
You mustn't miss the opportunity to visit the temple in Sounio! It is truly an unforgettable experience with beautiful ocean views. The majestic temple itself is awe inspiring!

– Lagonisi (6.5km)
Very close to Agia Maria is the town of Lagonisi which also offers many gorgeous beaches, restaurants and bars. Along the coast there are many resorts, one of which is Lagonisi Grand Resort. A five star resort where you can enjoy watersports and various other activities.
Plan an Unforgettable Experience in Agia Marina Today!
We can help you fit your stay and experience within your allotted budget.